Updated November 25th, 2019
Hello everyone, John Marsh here. Today i am going to share a very easy yet extremely powerful guide to protect you from phishing attacks. As you can see in the comments section at Empire Market's page that lots of users are complaining about getting phished and losing all their money when trying to access Empire Market. So i thought it is very important to publish this guide as soon possible.
There are many guides over the internet that tries to teach ways to protect you from phishing but they fail miserably. Why? Because they get into too much detail that they lose the point of the article and gets the user confused. My main focus is to keep this guide as short as possible while sticking to the point and showing the user a fool proof way to say good bye to the menace of phishing forever. This is extremely easy guide and is best for newbies. So without further ado lets get started.
There are two types of phishing. I wont be using technical names to keep the article newbie friendly. So there are two types of phishing methods (1) Simple (2) Advance. I'll explain these methods briefly and then give you a simple 4 step guide to get 100% protection. I promise it'll be very simple and extremely easy to understand.
What is Simple Phishing: A scammer Sets up a fake login page with same design to give it a real look. When someone tries to login, he is simply given a wrong password message or he is redirected to the real website's login page. This kind of phishing method is very easy to spot and can be avoided by simply enabling the pgp 2 factor authentication.
What is Advance Phishing Method: A scammer sets up a fake website and uses a Proxy behind the scenes to fetch the real website. The only thing he is controlling is the deposit and withdrawal addresses, rest of the website is real because it is being fetched by the proxy in real time. This kind of phishing attack is very hard to spot and most victims think they have been scammed by the website because everything seems to be legit but in fact it isn't. Some of the Phishing websites for your enjoyment. Spot the differences and let me know in the comments section below.
zw7ybukalkgofe7d.onion
23d6aai45amjurcv.onion
luz7mcbbd35dncy2.onion
Empire Market Fool Proof Phishing Protection
First things first always use links from a trusted source for example darknetstats. This is the most important step, So don't forget to follow this.
Verify the link in your browser's address bar by clicking the "Verify Button".
You'll see the captcha screen. Enter the captcha correctly.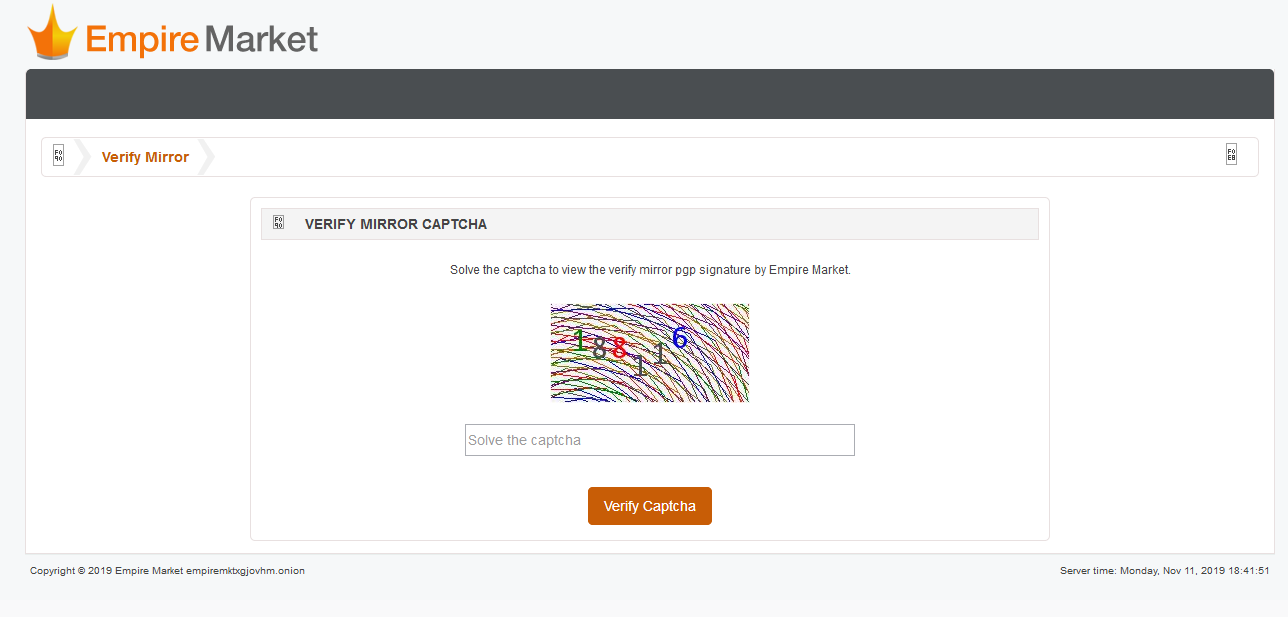 You'll get a pgp signed message containing the url you are accessing. Now compare this url with the url in your browser, if they are not the same then you are on a phishing website, leave the site immediately and you dont need to follow any further steps. After verifying the links are same , then Copy this signed message and paste it in your pgp software.
Now click on "Verify" button of your pgp software. If the message is really signed by empire market then you'll get a message "Text was completely signed by: EpireMarket<empiremarket@none,com>" with green background otherwise you'll something else with red ground background. All this process wont take more than 50 seconds of your life. You can read our easy pgp tutorial, I promise you that its extremely simple and you'll learn pgp within minutes. You can import the official Empire Market Pgp key by visiting this Page. I know that most of you guys are not geeks thats why i made it really simple, Don't be afraid of the word "PGP". I promise that you'll love our tutorial and it'll be worth your time.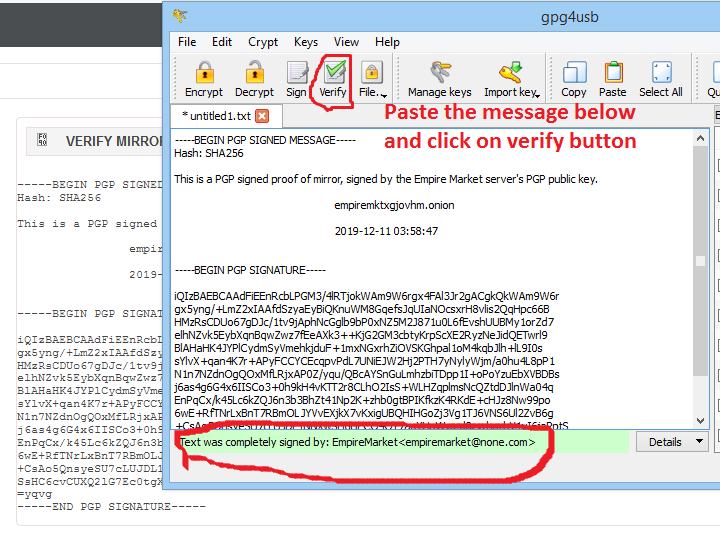 Enable Pgp 2 FA. It gives protection against simple phishing and password hacks. Pgp 2fa is very easy. Again, if you have never used pgp key then i urge you to follow our extremely easy Pgp Tutorial. I promise it's really simple, you'll be ready to use pgp within 2 minutes and you will definitely love it. To enable pgp 2fa, simply go to your profile page, add your pgp key and choose enable 2fa authentication from the dropdown menu and click on save changes.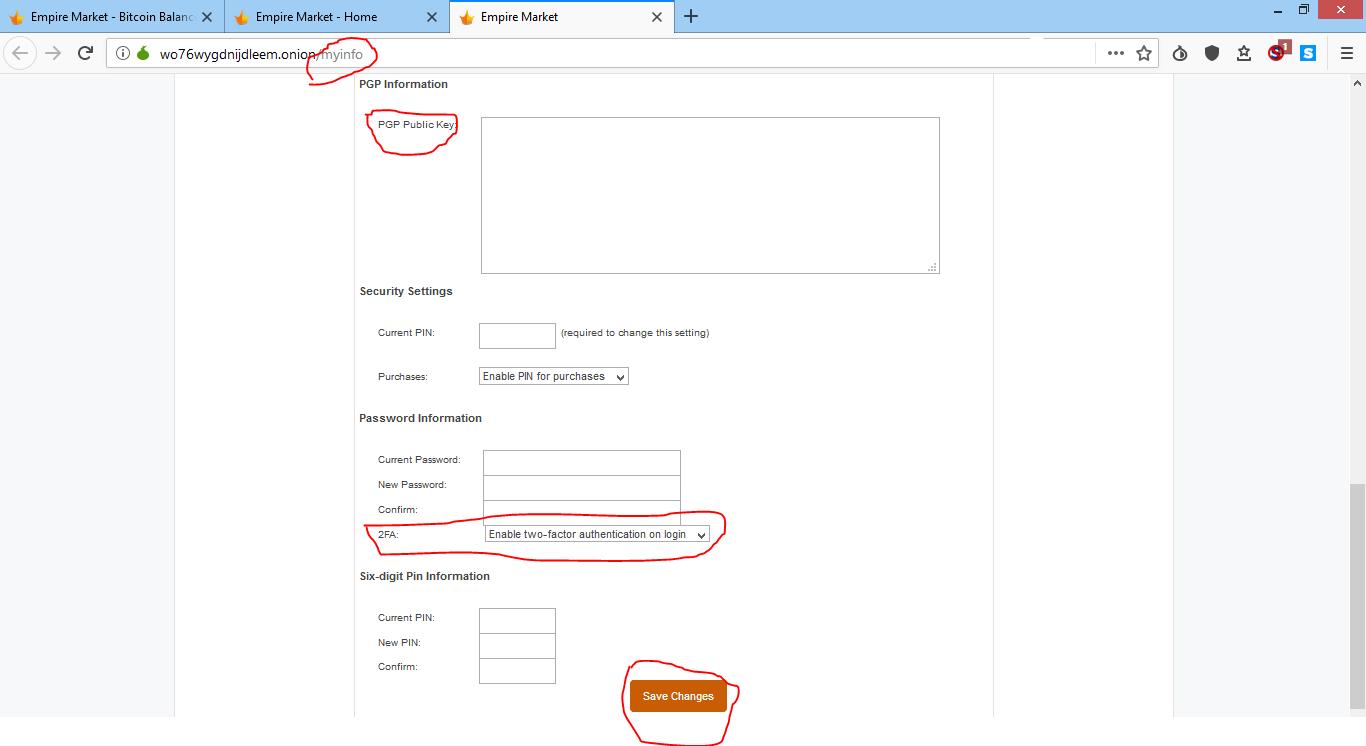 Never share your mnemonic and your Pin especially when someone asks for it on the login page, password reset page or using a message pretending to be admin or support staff. You should share your mnemonic and Pin with staff using support ticket system only.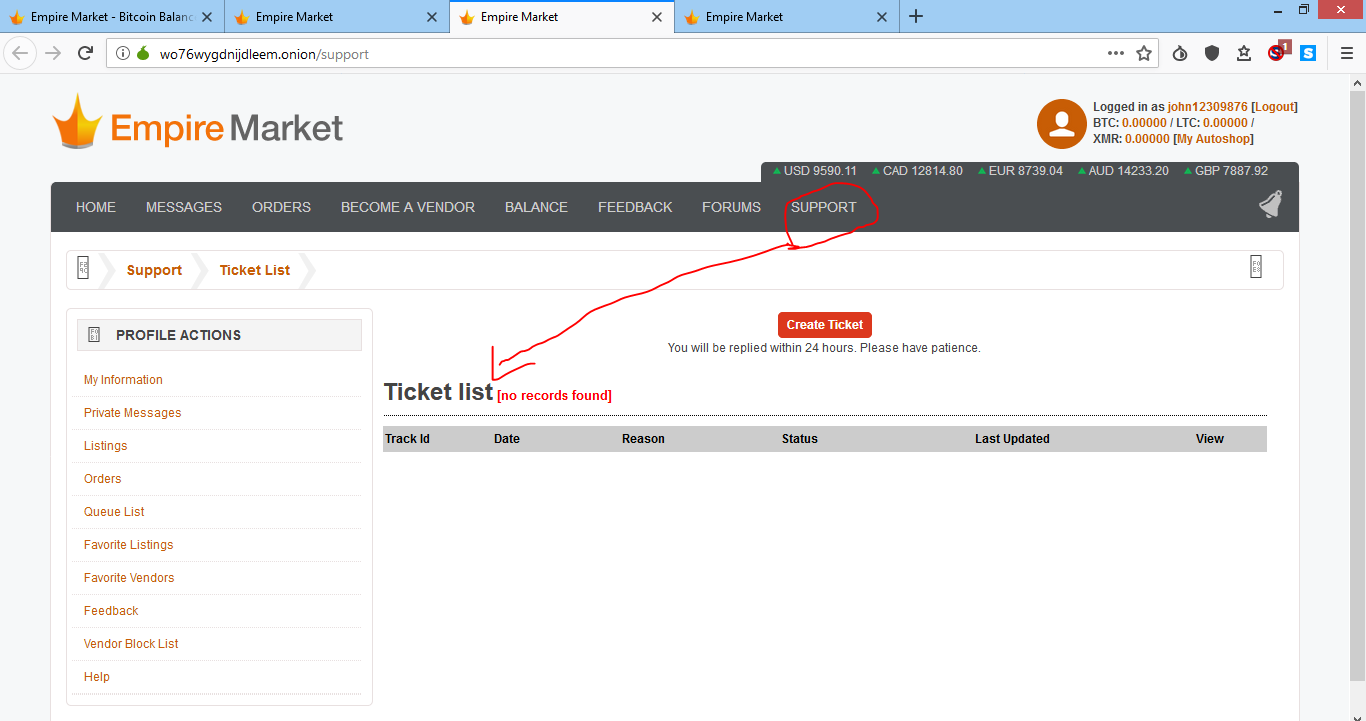 This is it, that's all you need to do to save your hard earned money going to some low life scammer. If you need some advice, have some confusion understanding or need to share suggestions then feel free to share it in the comments section below. I am always happy to interact with you guys.
Thanks for your love and support,
Stay safe & Be Happy,
John Marsh