Updated July 26th, 2019
The second largest darknet market is in the midst of an exit scam. Nightmare market has disabled all withdrawals and started changing passwords of vendors after a week long maintenance period.
The Beginning
It all started a week ago when Nightmare started having Btc withdrawals issues. Lots of users complained of making withdrawals but never receiving anything. A known drug vendor "StrongWeed" started a thread on dread and some other forums about a withdrawal issue involving 1 btc (around $11000 at that time). According to StrongWeed
I've withdrawn 1 BTC from Nightmare at July 7 and bitcoin never arrived to my wallet. When I ask to support they give me a txid but that is not my BTC address. I've never seen that money. On blockchain it's all good with their txid. Money reached to an address. I've heard for deposit problems but this is so weird. What's going on!?
The problem didn't end there. The next day we started getting reports of users sending deposits to their bitcoin addresses but their balances weren't updating.
User's Reaction
Most of the users thought that the complaints aren't genuine and their accounts must be phished. One user said " You got phished at some point, your out of luck with your coins…activate 2fa to avoid having to worry about this". Another user said " Where did you get the link that you used to access Empire?
There's a strong possibility that you have been phished".
Bear in mind that phishing is a huge problem in darknet world and it is very common getting phished so most of the people thought that it has something to do with phishing.
The Real Problem
The phishing excuse didn't stayed for long as the complaints grew by every passing hour. Now everyone started to think that something is going on. Either the market is planning to exit scam or it is having some serious issues with their bitcoin system. There were a lot of theories shared on different forums about the situation but no one knew what was happening behind the scenes. All they could do was to share their opinion and nothing else.
Darknet scene is very volatile. Whenever something unusual happens, it gives birth to different theories and panic grips the overall situation.
The Delaying Tactics
Now after getting too many complaints Nightmare staff acknowledged the issue and assured their users that they aren't going anywhere, "it's just a small issue, no need to worry".
According to Nightmare's Staff member "Sandman"
NIGHTMARE MARKET TO FIX ALL CRYPTO – ONCE AND FOR ALL!!

We want everyone to know we are fully aware of the issues regarding our transactions. We know we are also 1 of the largest markets at the moment, we greatly appreciate your support for that!

We want to stress a few points:

0. We are NOT planning an exit, never. We are here to stay!
0. You WILL get all your coins and be able to buy and sell!

Now that we have that out of the way, we are planning a major overhaul on our financial system the next week, this means:

We will disable deposits for XMR, BCH, DASH, LTC and ZEC.

BTC deposits will remain active! ( for all coins; withdrawal and buying with what you already have or earn will remain active 100%, we do not want to take anything away from you!)

We will start with all open deposits and credit them to the designated owner. We will take 24h to 48h to do so. This way everyone who has an existing deposit issue will be helped first!

The second step will be extremely upgrading our financial system, starting with BTC. Make it more secure, make it 100% reliable, NO MORE ISSUES!

We will systematically follow up with every single coin.

Now.. this may take a week or so before all coins are active for deposit again so please be patient.

Some key take-aways;

? Withdraw and spending for all coins will remain 100% active
? BTC deposits and withdraw remains 100% active throughout this period (except for a BTC maintenance period, but we will update you on this)
? Every single person will get their money and be able to happily buy and sell!

We are not planning to have the same issues as other market such as Dream had at the time where your XMR is just gone. We will NOT allow this to happen!

So, please support us, we are here for you and hopefully this makes you realise we are not out to take anyone's money. No, we are here to build the largest and safest marketplace on the Darkweb!

Thanks,
Team Nightmare
After this announcement the staff disabled bitcoin deposits and withdrawals but in reality they just disabled withdrawals only and the deposits were still working and unsuspecting users were deprived of their bitcoins in this week long saga.
The Ending & The Hack Drama
A few days ago "I Think You Got Hacked" titled threads started to appear on dread forum. The person claiming to have hacked vendor accounts named ithinkyougothacked–posted lists of the first and last words of a vendor's mnemonic. Some vendors confirmed a match between the words posted by the alleged hacker and the 14 words they had saved during creation of their account.
The hacker seemed to have full access of the market because without full access he wouldn't be able to provide something so important as mnemonic. Please Do keep in mind that this is a so called hacker. We cannot confirm if he is a hacker or the market admin himself.
Contact With The Hacker
Darknet markets are rife with disinformation campaigns targeted by rival competitors. We wanted to confirm the hack by ourselves so we contacted the hacker using a secure chat server. In our conversation the hacker gave us some screenshots of the market backend which showed confidential information about the market and its users.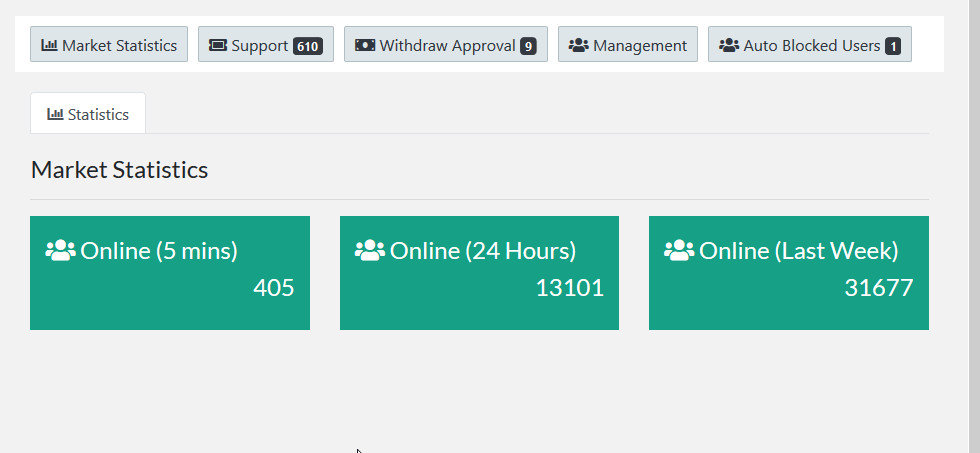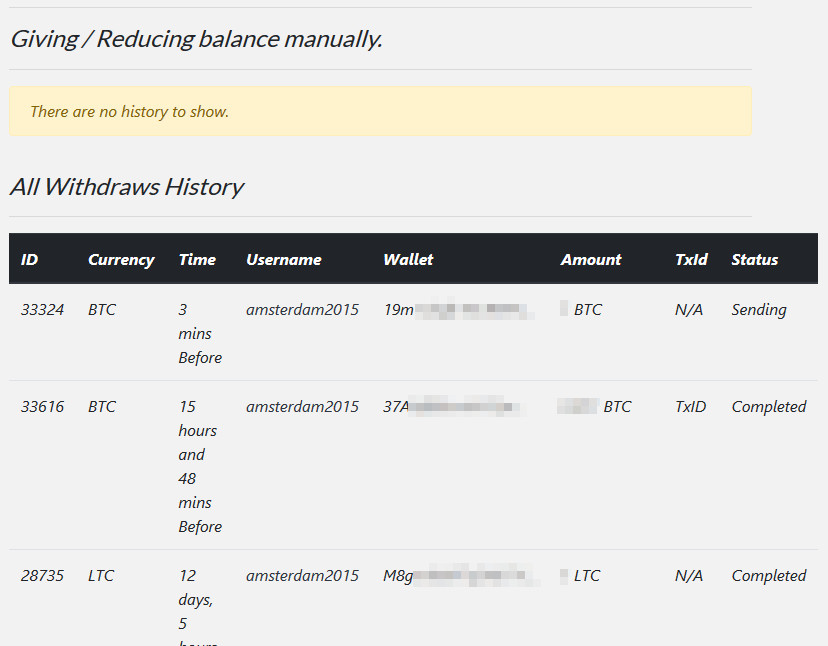 We are not sure why nightmare's staff kept internal communication unencrypted and open???? Below is a screenshot showing conversation between nightmare market staff members.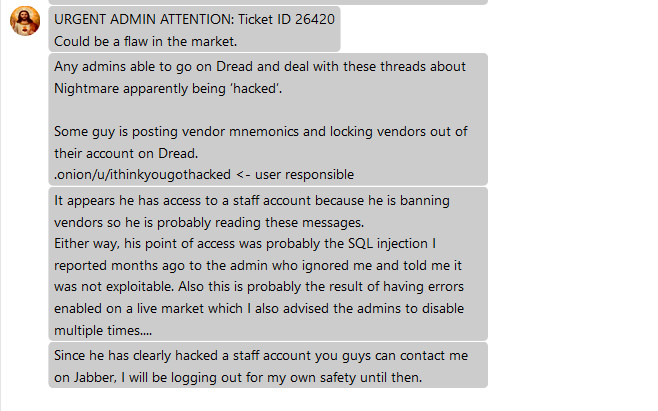 The hacker also shared Nightmare's stats including total sales and escrow balance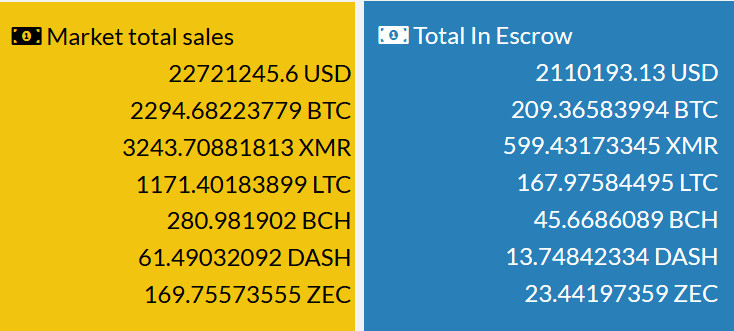 Below is a screenshot showing clearly Nightmare daily sales and pending withdrawals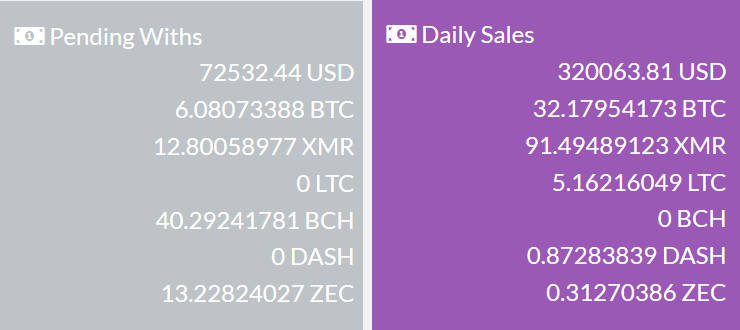 Current Nightmare Market Situation
Currently the Nightmare market's index page is showing a maintenance page with a message "we are under maintenance to improve market. We will back shortly. Nightmare Market Team". This means only one thing, They are gone for good.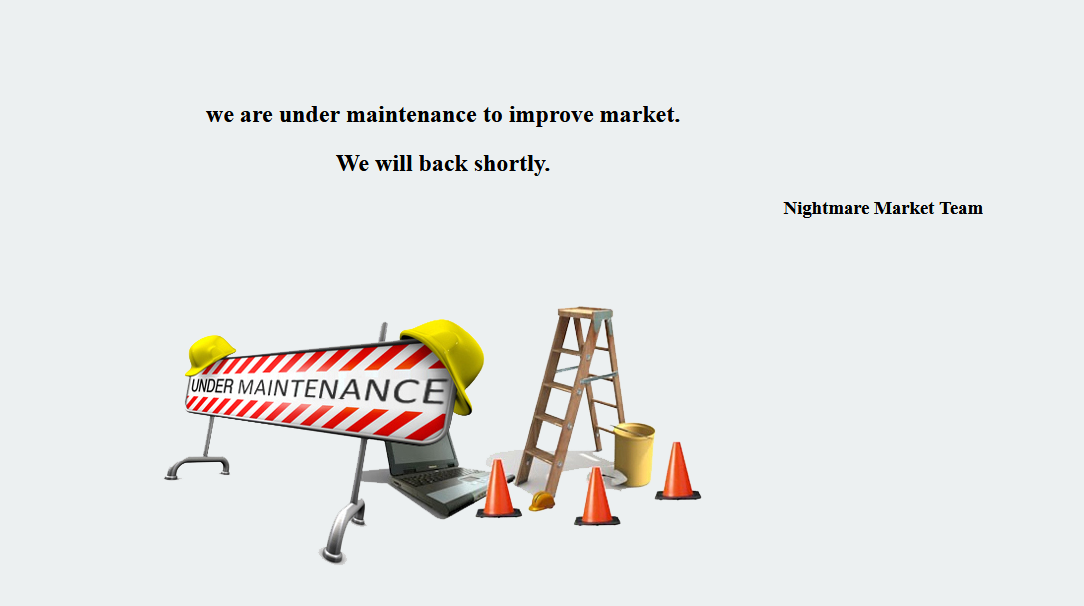 We did get Nightmare staff member "Sandman's" statement about the alleged hack. According to him
No hack happened
A rogue admin used support login to steal user funds
Used a support login account to lockout vendors and steal their funds
That same admin was behind all the hack posts on different forums
Here is his full statement.
NIGHTMARE – WHAT REALLY HAPPENED!

Here we go..

Oke so, there have been many speculations and many articles about hacks and such.

Sorry guys, it's not true, we were never hacked, and we can proof this solid, with the logs.

Here is the real story, that we do not like to share but in the light of everything, you deserve to know:

The admin; Creative, tried to steal from us…period. He was not part of the team anymore because of private reasons. But for the safety and continuation of the market we had to move on without him.

This resulted in him trying to steal money from the market through fake vendor accounts and eventually gaining access to a support member account (with partial info he saved from that account when he was still admin).He then followed to lock vendors and take over their account, which an admin can do and subsequently empty their wallets. This has resulted in him literally stealing funds.

As if this was not enough he then made screenshots of market specific data to post it under the motto! I HACKED THEM.

And:

'They were planning an exit strategy'

Now, let me make something very clear. We are NOT and NEVER HAVE planned an exit. And we WILL pay every cent that the affected accounts have lost from our own pockets.

And this my friends, is what really happened.

–

We apologize for all the things that have taken place in the last 24h and unfortunately our attempt to keep the team save has resulted in funds being stolen and hacks being claimed. It is literally impossible because after Creative was off the team we immediately moved every single bite of the market to a new server of which he had no data nor access.

To those who believe in us, please understand that we never meant for this to happen and we will do whatever is in our power rectify this, even as I said before, paying back what was lost from our own pockets.

–

We have been reading things like:

'Inevitable exit scam' or 'waiting until there is enough and the make our move' I dare every single person who claims this to proof that any single one of our team-members has ever said this. Except for creative maybe 😉

Either way, you will all see…we wills still be here tomorrow…the day after, and the days after that.


Thanks for reading,
Team Nightmare

Update Friday, 26 July 2019 – Nightmare is back online again. Currently its receiving deposits only from unsuspecting users. A common tactic used by exit scammers to maximize profits. On the other hand old users can see their old balance when they login but whenever they try to withdraw their bitcoins they get a withdrawal pending message.
Nightmare Market Alternative
Whats next now for the darknet users? It's time to accept the loss and move on to a better market. The darknet users are used to this kind of situation thats why they recover from these situations very quickly.
The next better market in terms of speed, availability, security and safety is obviously Samsare Market. Samsara is the fastest growing market at this time and is considered the next best thing. As always we advise you caution when using darknet markets. Always use pgp and keep your information safe.