Updated July 18th, 2019
The first thing you are going to want to download the XMPP client called Pidgin. This can be downloaded here. Once it is downloaded, go ahead with the install to completion. We suggest that you follow our easy jabber tutorial to get yourself up and running within minutes.
Once it is installed, start up Pidgin. You will be presented with two different Windows. Ignore them for now. We have to first go grab the software that will allow us to chat securely. It is called OTR, which stands for Off-the-Record messaging, and can be downloaded here.
Download and install it. Make sure that the Pidgin application is closed out from your screen and taskbar before installing OTR.
Great. OTR and Pidgin are now installed! No more downloads from here out in the tutorial, just a few simple configurations to Pidgin. The first thing we need to do is make the OTR plugin active in Pidgin. Do this by opening Pidgin, going to the "Tools" drop down, selecting "Plugins", and clicking on the checkbox next to "Off-the-Record Messaging".
Once we are done with that, we can enter our XMPP account details and start chatting, or make a new account if you do not have one. If you need a list of free XMPP service providers, you can get one at this link. Get yourself registered and then login using pidgin.
The next steps, to take one more step to be even more secure, will to set Tor as a SOCKS5 proxy, so that not only are the messages encrypted with OTR, but the traffic is encrypted with Tor. To do that, click on the "Proxy" tab, and set your "Host" and "Port" accordingly. Make sure that Tor is running as well, or you will get connection errors!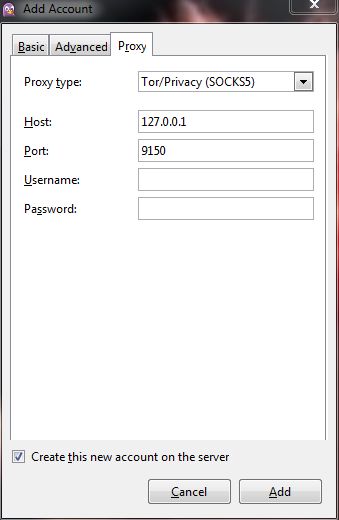 Thats it, you are now using the most secure way of instant communication available on the internet. Stay Safe!