Updated September 16th, 2019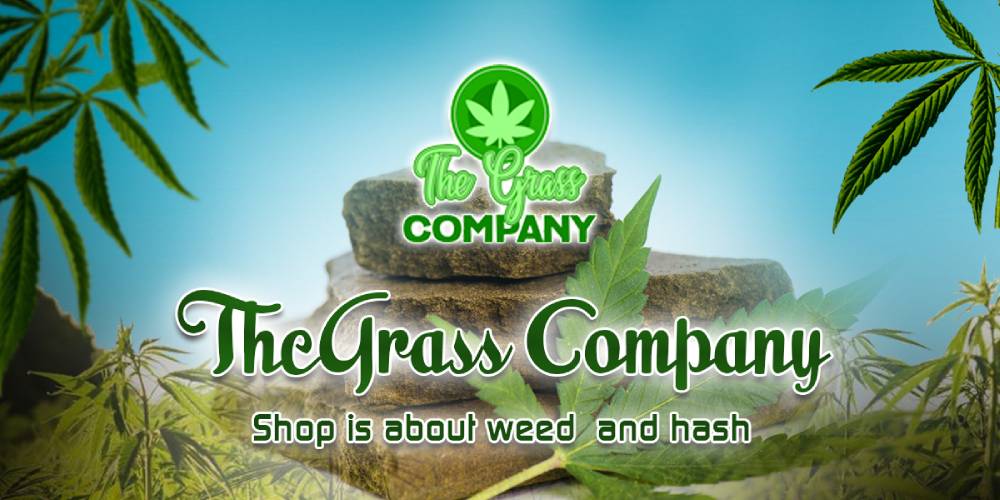 The Grass Company Shop Link: grasscoiajeytipp.onion
Introduction (in their own words):
The best and biggest online Coffee shop there is for all your Weed and Hash needs. Let us introduce our selves. We "The Grass Company" has many years of experience in shipping drugs around the world. A team that finds it important that our costumers are satisfied to the most. We only sell soft drugs, so only Weed and Hash. The best special strains of weed we offer, AAA+ material. Always a minimum of 10 special strains to offer. Sometimes a few more. We are trusted and our stealth is up to date. Cant tell too much about our stealth here. But its very good, trust us.
We ship daily and we ship all our products from the Netherlands. Your order will be sent out within 24 hours after ordering, with great stealth to assure you your order will arrive fast and safe.
We ship worldwide, except Australia and USA.
We provide tracking only for orders of 20 grams and more.
RESHIP/REFUND POLICY:
What if your order gets lost?
If your order is lost, stolen, seized or doesn't reach you in any way.
We reship or refund you 1-time 50% of your additional order.
Review & Purchasing Guide:
TheGrassCompany is one of the many darkweb vendor stores at this time.
Having been one of the latest additions to the existing list of the darkweb vendor stores.
TheGrassCompany's new darkweb shop is doing pretty well in all aspects.
It has managed to create a buzz among the users.
In this article we will take you through almost all of the most enquired topics about The Grass Company deepweb from how to access, purchasing products from their store, TheGrassCompany's darkweb link and much more.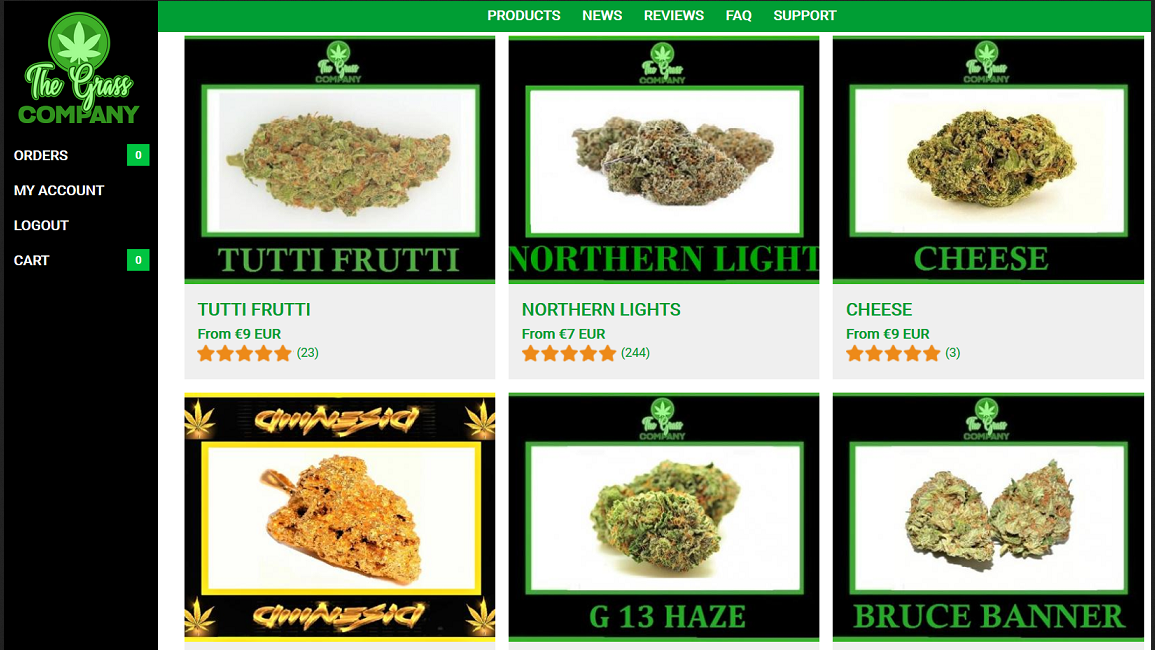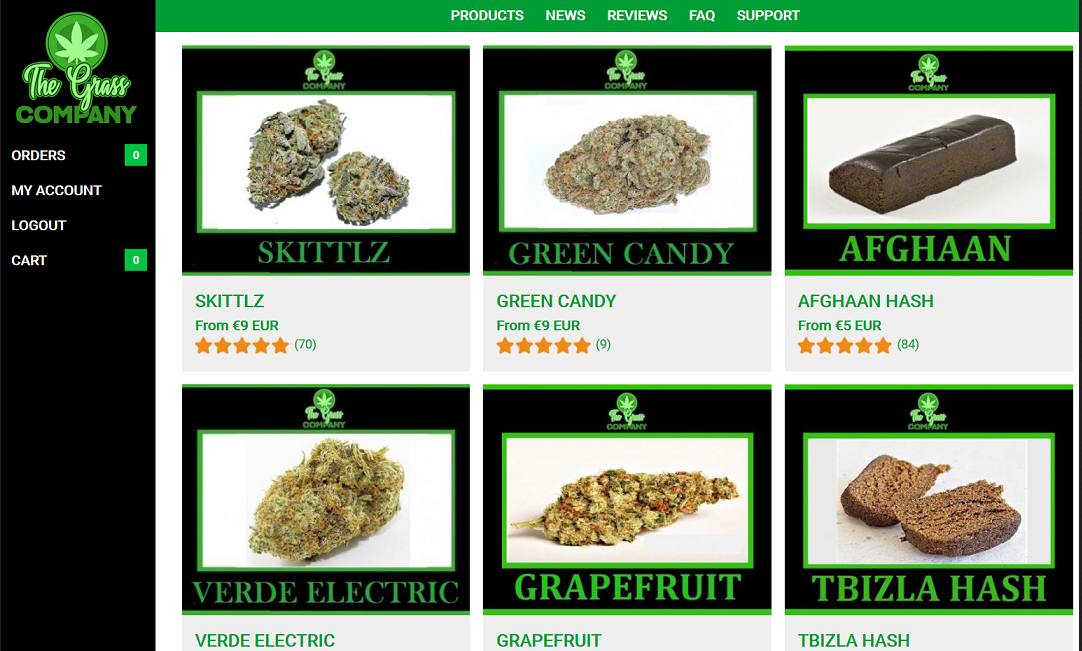 But before we can get started, we need to provide a small disclaimer.
TheGrassCompany link to the Market Guide of TheGrassCompany new darkweb store has only been curated for the non-technical purposes,
considering the need of the non-technical people who might have been or in future want to use them.
This Guide will be the most essential thing, and the ultimate one you will ever need to access TheGrassCompany's darkweb vendor store.
We recommend all the users/readers to follow the below-mentioned steps so that their privacy is not compromised.
Features of TheGrassCompany vendor store:
Free Shipping on All Packages to Europe – Yes, you heard it right! All the packages that reach to Europe from TheGrassCompany will not include any shipping charges.
Moreover, the order against each user/customer will be sent with Free Tracking.
The shipping costs for envelopes is 6 euros and max 19 gram will fit in a envelope.
For 20 gram or more to be shipped they dont charge any shipping costs.
The prices of all the strains from TheGrassCompany are honest and fair.
For many strains the price is the same, although Hash, Amnesia Haze and the cheaper Northern Lights do have other prices.
For now they only accept Bitcoin as payment, in the near future they will also accept Monero as payment.
The minimum price of the strains starts at just 9 Euros a gram and a maximum of 6000 Euro for 1 kilo.
Here are the price slabs for the same:
1 Gram = 9 Euro
2.5 Gram = 22 Euro
5 Gram = 44 Euro
10 Gram = 85 Euro
25 Gram = 200 Euro
50 Gram = 380 Euro
100 Gram = 750 Euro
250 Gram = 1800 Euro
500 Gram = 3250 Euro
1000 Gram = 6000 Euro
Free shipping Europe:
TheGrassCompany is now shipping their products against no shipping charges on packages within Europe.
They offer reship and/or refund policies for better trade.
A 50% of the additinional order they reship or refund.
Products sent through the envelopes can contain a maximum of 19 gram, above 19 gram will be shipped in a package.
On the packages they provide tracking for free.
Accessing TheGrassCompany webshop:
In order to access TheGrassCompany darkweb shop, you need to have tor browser downloaded in your system, along with an active VPN. Once these are done, you need to open the Tor and in the address bar enter grasscoiajeytipp.onion.
You will be directed to the homepage. On the left-hand side, you will find the "REGISTER" option, which you have to register yourself if you are an absolutely new customer.
If you are a returning customer, choose to "SIGN IN". Next, you can browse through the products.
To order deposit enough funds to the BTC address that has been provided to you, encrypt your address, place an order and checkout.
All the orders will be shipped at the earliest as soon as the payments are cleared.
You are all set to access TheGrassCompany webshop!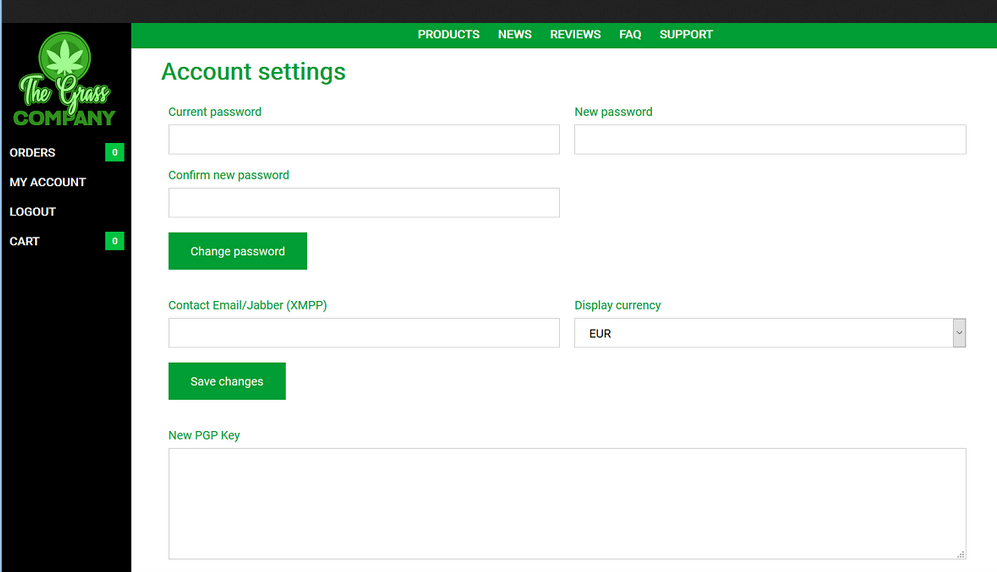 Also you can see some nice features on their darkweb store.
A FAQ page, a page where you can see their latest news or updates and you can also can check the ratings from other customers.
Keep an eye on them always to check for awesome offers or how their store works.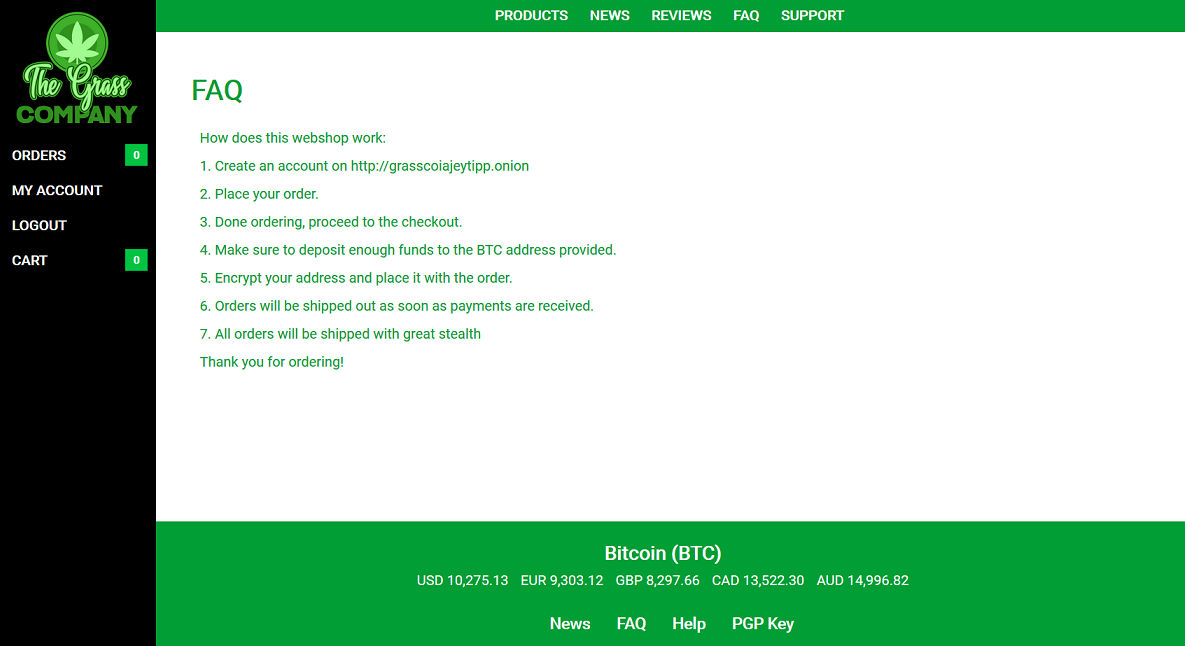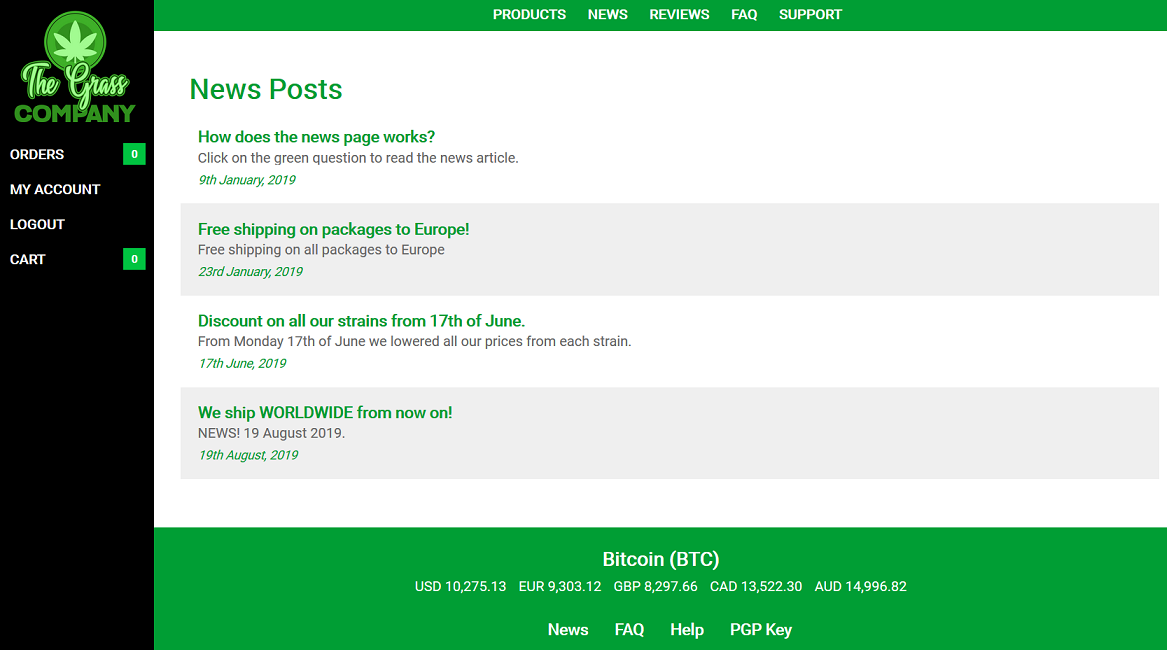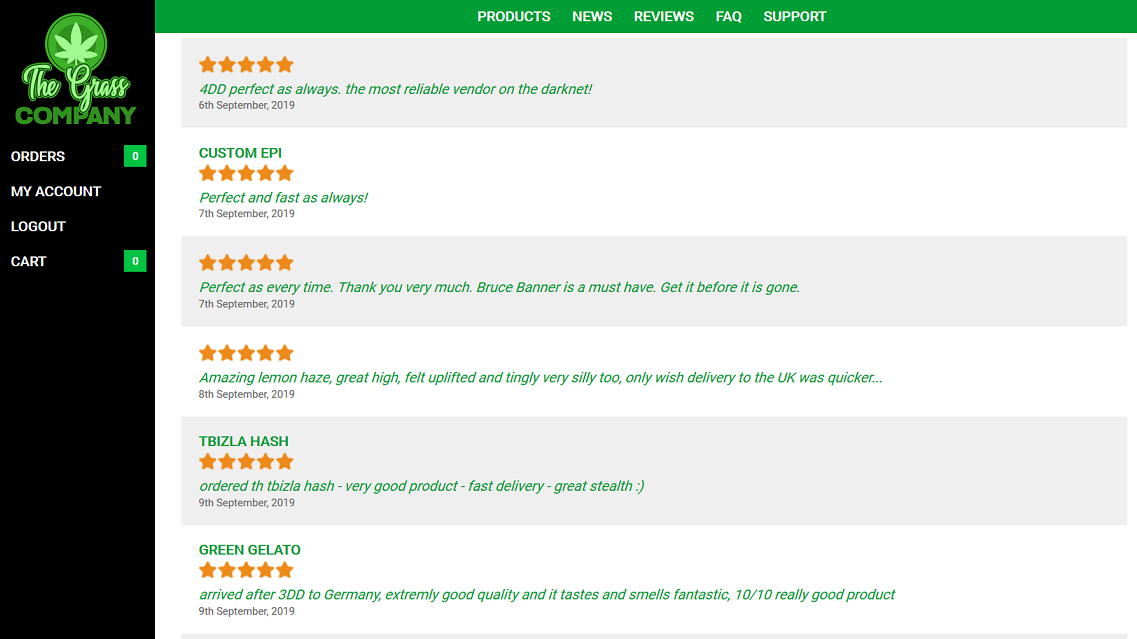 Markets:
TheGrassCompany is also active on many markets for several years now.
On most of them they are active as a trusted vendor. You get this "Trusted vendor badge" on the markets if the market is sure you are trustworthy.
After some successful years TheGrassCompany created their own webshop for their regular customers.
They have the same great support on the markets as on there darkweb store.
Also their reship/refund policy for lost orders on all markets is exact the same as they have on their darkweb store.
The only thing that is different is that they offer at times great offers at their darkweb store that aren't offered at the markets.
On some markets they also accept payment with Monero and Litecoin above only Bitcoins.
If you prefer using a market to purchase there products here is a list of markets where you can find them on.
Just find them to search for their name "TheGrassCompany" and you can order their the same products as in their darkweb store.

Markets where you can purchase TheGrassCompany's products :
Samsara –

samsaraccrn2jmin.onion/contactMember?member=The_Grass_Company

Cannazon –

cannazon4gbjluus.onion/vendor/785377534

Empire –

empiremktxgjovhm.onion/u/thegrasscompany

Berlusconi –

dow3477hfnjizexpgjvkrwrtyd3kvbeyeyo2xwxsklw4ky54d6yo3yid.onion/index.php?c=listings&a=vendor&v_id=ba5d3f09673e44f45cf81b37d234f1b1

Darkmarket –

darkevuygggqkqhq.onion/vendor/d65b1890-cd82-11e9-8dea-df2875cf4938

Cryptonia –

jsm5ecfs2xdjivvtizedkiuj4tgcnpewvys3qxxekvucgx2dvqxhy4qd.onion/user/TheGrassCompany

Grey Market –

greymtqdzxqec5ox.onion/user/Zht096P0nRt3

Apollon –

apollonujscjrlng.onion/user.php?u_id=TheGrassCompany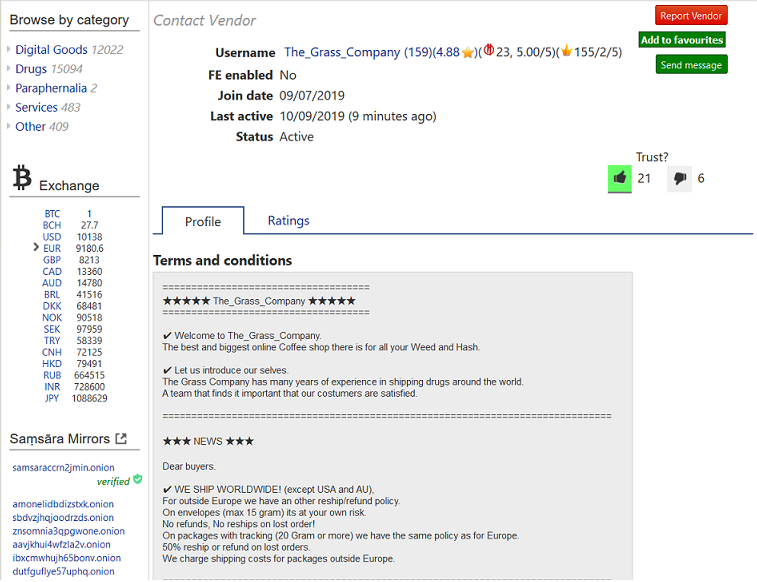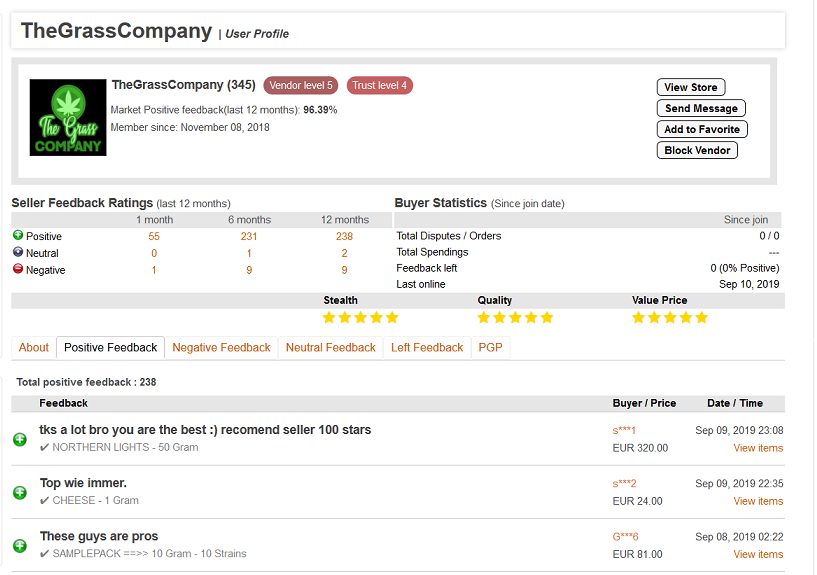 Disclaimer: We do not promote drugs nor do we support them. This article is written for educational purposes to help raise awareness among general public about the marijuana vendors and their products.