We reported this on 2nd october. As a premier resource for all the dark web news, we are always the first to report, Others will copy our article and screenshots so beware.
Berlusconi the 3rd biggest darknet market is in serious trouble after one of their mods reveal that he isn't able to contact the admins for the last two weeks. He released his statement after users were unable to get through the captcha to access the market.
It all started a week ago when we saw a huge traffic increase on our site and most of the traffic was accessing our berlusconi market page. All of the users were complaining about the ddos captcha not allowing them to access the market. The market requires users to solve a captcha before entering their login details. But the users were redirected to the same captcha page as if they had incorrectly solved the captcha. One user said " I'm stuck in the anti ddos side, anyone else too? I had only good experiences so far. " Other said "recently stuck in anti doss captcha. please solve the situation no one want another exit scam site". By every passing day we received hundreds of complaints about this situation. The situation was very fragile and none of the users wanted another exit scam.
Then after a couple of days we saw an announcement by a berlusconi market Pr explaining the situation. He said
Please do not spread FUD as we had too many opportunities to exit scam we refunded 300.000€ from vendors who exit scammed and run away with money before 8 days,our OPSEC measure is that only highest admin has access to the server and this happend before for 7 days we were offline you all assumed it's exit scam and it was not.We just need time please notice we are number one target of LE organizations and to keep ourselfs secure and you our customers we need to take care of some steps we will after this update make this kind of situation not tolerated becuse we are making hybrid system of taking and securing berlusconi online from perspective of moderator.Berlusconi has millions in escrow system these years we could pull the plug and say fuck you all. but we can guarantee every single euro and cent that is on escrow is safe and untouched if our admin does not contact us we will bring up Berlusconi from another server and active our cold storage admin secured for this kind of situation we know our monthly balance so we have 12 months of monthly balance in cold storage,so money will not be lost nothing will be lost.It is not easy task to manage largest marketplace for all these years we are not like other marketplaces who are here becuse of money. belive us without exit scam we have enought money to enjoy for the rest of our life. But that's not us. we are here becuse of you and you only every customer and vendor we supported every project that become online on darknet becuse we love you you are our family who we would take care of.There was romours that Berlusconi Marketplace is hosted on CyberBunker no it is not! we can tell you straight away.Berlusconi servers are secure and online.captcha does not allow you to come to our V3 Becuse of OPSec measure.We will NOT allow to FUD and False accusations ruin our reputation we are building since 2016! We saw many people creating "Marketplaces" and saying they're number one and will fight till last.We never putted that under your nose and said it to you! We proved it.there is no single worry that should affect you to create fear posts! Please wait Putin to come online and he will reconnect captcha with our servers it's OPSEC measurement that we all need to proccess!

Statement made by a Berlusconi Market PR
The statement made by a PR member wasn't so credible in the said situation because we have seen this in past that PR members are just spokesperson of the market. They have no access to the backend servers / admin panel and they aren't well connected with the admins. The users on the other end were in a state of panic because all their funds were stuck in the market. Their frustration was understandable.
On 2nd October we received a message from berlusconi mod in which he stated that the problem was bigger than just a captcha not working. He said he wasn't able to make contact with the admins for the last two weeks. He thinks that the mods may have been arrested, dead or anything else. The message from him was pgp signed so this was a big proof for us but still we didn't announce it because berlusconi market has suffered from the captcha problems in the past too that's why i thought we needed to give it some more time before we make an announcement about the situation.
So i went ahead and posted a comment on our berlusconi market page to inform the panicked users about the current state of affairs the market was passing through.
12:47 pm – Wednesday, 2 October 2019 – Berlusconi market may be seized. At this time we are in the process of gathering sufficient proofs that we can use to make an announcement, So we will need to wait a bit more for the situation to clear.

Side Note: A PR member of Berlusconi Market made an announcement in which he states "We are not exit scamming we have internal issues with our Marketplace our admin Vladimir Putin has some real life issues and he is expected to be online in next few days we didn't and will not betray our customers and vendors."

Remember: PR members are just spokesmen for the market. They don't have any access to the backend systems. So their announcement is useless in this kind of situation.

Admin
Darknetstats

Statement made by us on 2nd, october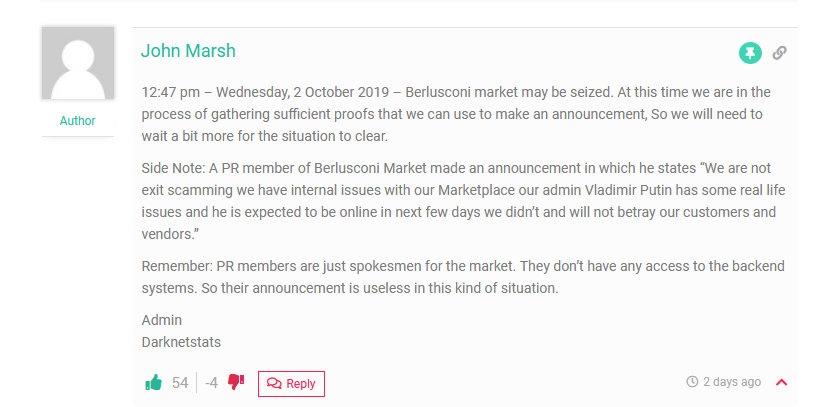 Here is the original message and the screenshot of email we received from berlusconi mod on 2nd october 2019. We still think only one email from a mod is not sufficient proof to announce the arrest or exit scam of berlusconi admins. In the message he said
As you surely know, at the moment we have a problem with the captcha. The real problem is that our Admins are disappeared two weeks ago (before of this problem) and we don't have access to the server, so we can't fix the problems. The funds should be on the market so I don't think to an exit scam but the result is the same. We're tring to hack the captcha so we can get over it and the users can withdraw their funds but it's not easy.
We don't know what happened to our Admins. They may have been arrested, dead or anything else.
We hope to see them in the next days but every day that passes they are unlikely to return.
Anyway we will keep you posted.

Best Regards

Emmanuel Macron, Berlusconi Market Chief Moderator

Message from Emmanuel Macron Chief mod Berlusconi Market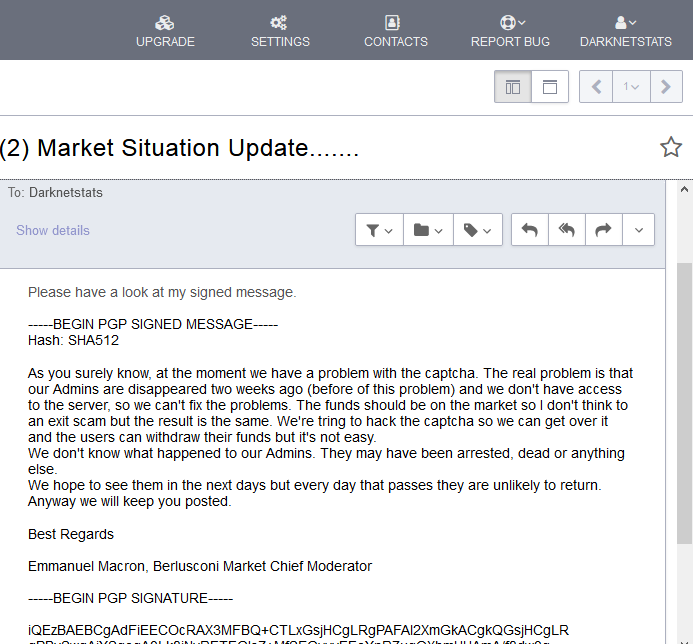 What now? Well, the situation is still far from clear. After carefully analyzing the situation we don't think this is an exit because if the admins wanted to exit scam then they would have allowed the deposits to come through and also blocked the withdrawals prior to their exit scam just like every other market did in the past. On the other hand if we can see that berlusconi was using front servers to serve captcha and the back servers generated a token and allowed users to the actual market itself when the captcha was solved correctly. Now we can clearly see that front servers are working fine and serving the captcha right but the back servers aren't responding to the request that front servers are sending which makes the captcha to reappear again. It means that the back servers may have been seized where the market actually was hosted and the front server belonging to another country's data center may not have been seized to this time.
At the time of writing this article we can't be 100% sure what may have happened to the market or its admins. What we do know is that the situation doesn't seem to be very good. The two weeks long absence is something that can't be ignored and the clues we are getting now only points to one thing which is we may see some banner on this market's page very soon which will say "This Market Have been Seized".
How useful was this post?
Click on a star to rate it!
Average rating / 5. Vote count: